If you want to start a hotel-related business then this post will be very useful for you. In this post, I am going to tell you about 19 Hotel Business Ideas in India.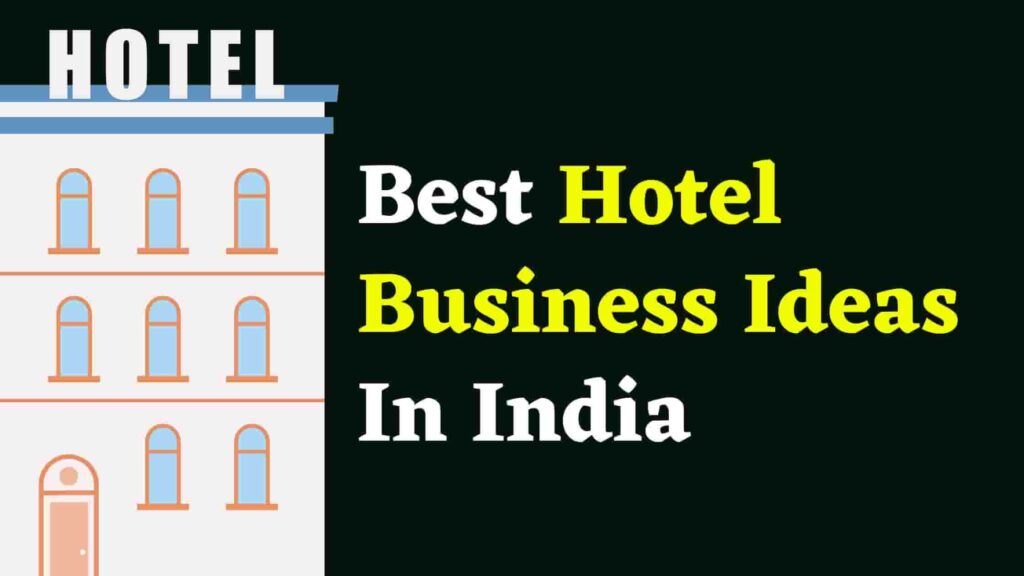 List of Hotel Business Ideas In India
1. Start A Canteen
Starting a canteen is a very popular Hotel Business Idea in India. You can start a canteen with very little investment. You can also start a canteen in a school or college. You can make good money from this hotel business idea in India.
2. Start A Food Truck
The Food truck business is also a great hotel business idea. It is very popular in foreign countries and now becoming famous in India. The advantage of the food truck is that you can change your business location whenever you want. You can test different locations and find the best location for your business.
3. Start A Food Stall
If your investment capacity is very low then this business is perfect for you. You can start a food stall at any crowded place in the city. You can also use a food cart for your business so you can change your business location whenever you want.
4. Start An Online Hotel
You can also start your food business from your home. You can register your business on Food Delivery Apps like Zomato, or Swiggy and earn good money from home. You can also create your website and get orders from social media platforms. You can also run ads on social media to grow your business.
5. Agro Tourism Hotel
You can also do your hotel business with agritourism because people who come for agritourism need room and Food. If you have a piece of land or you live near a village then you can start this business very easily.
6. Start A Resort
If you can make a good investment then you can start a big resort. People go to a resort to enjoy their vacation. Resorts and hotels are two different things. Resorts are huge and luxurious. It also has many things for entertainment.
7. Bus Stand Hotels
You can start at a canteen or hotel near the bus stand or even at the bus stand. You will need permission to start a canteen in a bus stand. Many travellers come from long distances, so hotels in this place do well.
8. Railway Station Hotel
You can start your food stall or canteen near the railway station or even in the railway station. A huge number of passengers travel every day and you will get a lot of customers in this place too.
9. Airport Hotels
You can also start your hotel near the airport. Where you can arrange accommodation and meals, breakfast for people.
10. Hotel Cleaning Service
Apart from starting a hotel, you can do many hotel-related businesses such as hotel cleaning Business. Think about how many hotels there are in India so you can get an idea of ​​how many customers you can get.
It is a zero-investment business Idea so anyone can start this business.
11. Work With Big Hotel Brands
You can also work with big hotel brands like Oyo, Yatra, MakeMyTrip etc. You can register your hotel on these hotel booking websites. You will get many customers from these websites.
12. Start A Unique Hotel
You must have seen many strange & unique hotels on YouTube and the internet. People deliberately start such hotels so that people get attracted to such hotels. It is their marketing strategy. You can also start such a hotel.
13. Get A Franchise
You can get a franchise of a popular food brand or hotel. The main benefit of getting a franchise of a popular brand is that you will get the advantage of their existing customer base.
14. Start An Eatery (Bhojanalaya)
You can start an Eatery because in cities people come from outside for education as well as work and they get a huge benefit from this service. Many people earn lakhs of rupees every month from this business idea in India.
15. Tiffin Service
There is a very high demand for tiffin service in India. You can start your tiffin service with a very low investment. You can also do eatery and tiffin business together. You can earn huge money from this business in India.
16. Room & Food Business
You can start a hotel where you can provide accommodation and food to people. You can start such a hotel near the highway. You can also start such hotels in tourist places or big cities.
17. Food Stall Near Movie Theatre
You can start your food stall near the movie theatre or even inside the movie theatre. People buy food during intervals of the films. This is a good business idea for the beginning.
18. Start A Tea & Breakfast Corner
Tea is the most famous drink all over India and hence you can start a tea and breakfast corner in your city. People are making crores from this business.
Conclusion –
Everyone needs food for their survival and hence businesses related to food are always in demand. You make crores from hotel-related businesses.
You will love the following posts –
FAQ
Q1. How much does it cost to build a hotel in India?
It depends on the hotel you want to build. If you want to build a small hotel then you can build your in some lakhs but if you want to build a 5-star or 7-star hotel then it will cost more money.
Q2. What is the profit of the hotel business?
The hotel business is extremely profitable. You can make crores from this business. A small hotel can easily make 50,000 to 1,00,000 per month and big hotels can make crores.
Q3. Which city is best for the hotel business in India?
Nearly all the cities are good for the hotel business because food is a necessary thing for humans. Big cities like Delhi, Mumbai, Pune, Bangalore, Chennai, and Hyderabad are always the best for hotel businesses.
Q4. How can I start a small hotel in India?
Learn to make recipes for the food items you want to sell, find the right location, and do some marketing and that's how you can start your small hotel in India very easily.
Q5. How can I make my hotel successful?
To make your hotel successful the quality and taste of your food are very important. Do some marketing, Use social media for advertising, give offers, and keep your hotel clean.